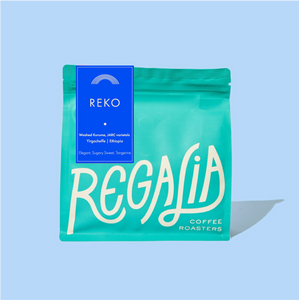 Regalia Coffee
Regalia Coffee - Reko Yirgacheffe, Ethiopia
Regular price
$34.00
$0.00
Unit price
per
REKO RETURNS TO THE MENU AS OUR FIRST YIRGACHEFFE OF THE YEAR. WE GET AN ELEGANT CUP, WITH SYRUPY SWEET TANGERINE QUALITIES IN THE CUP.
Reko is a community that lives up in the Reko mountain area of Yirgacheffe's Kochere woreda. The altitude is higher here: ranging from 1950 to 2150 MASL. The varietals here are like the other communities - a mixture of Kurume, Yirgacheffe landraces, and disease-resistant JARC varietals.
What gives Yirgacheffe coffee its unique taste is the high altitude which makes the trees work harder to produce fruit. As a result, Yirgacheffe coffees tend to have a fuller and more developed profile.
Region Yirgacheffe, Ethiopia
Altitude 1950-2150 MASL
Process Washed
Varietal Kurume, JARC varietals
---
Share this Product
---