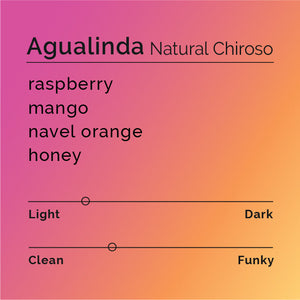 Black White Roasters
Black White Roasters - Aqualinda, Natural Chiroso
Regular price
$37.00
$0.00
Unit price
per
Origin | Santa Barbara, Antioquia, Colombia
Producer | Echavarria Family
Farm | Agualinda
Process | Natural
Variety | Chiroso
Elevation | 1950 masl
NOTES  | Raspberry, Mango, Navel Orange, Honey.
MEET THE PRODUCER | This coffee comes to us from our new friends at Pergamino Coffee Exporters, via our old friends at Atlantic Specialty Coffee. Pergamino began, not as an exporting company, but as a coffee farm. In the 1970s, patriarch Pedro Echavarria, Sr. began growing coffee on an abandoned farm in Antioquia. As his passion for coffee grew, Pedro expanded his business into the town of Santa Barbara, and Finca Agualinda was finally purchased in 2003. Ever since, it's been the heart of Pergamino's growing operations, with the highest elevation plots being set aside for a very special varietal: Chiroso.
TRUST THE PROCESS | After being picked at peak ripeness and hand-sorted for quality, this lot underwent two days of mixed fermentation. Then, it was removed to mechanical drying silos, where it was stored at 40 degrees celsius to dry for three days.
TAKE A SIP | As a variety, Chiroso mirrors many characteristics of Ethiopian heirloom varieties, such as florality, citrus, and tang. In this cup, you'll certainly experience all of those things, in addition to a complex acidity and soft, velvety texture. Red berries, like raspberries, pair with some really lovely tropical notes, like mango and navel oranges. The sweetness reminds us of honey. As we sip this coffee, we're pretty stunned by how well she cleans up for a natural.
It's no wonder, then, that this coffee has already won over the hearts and palettes of over a thousand taste testers. In collaboration with Cometeer, barista and YouTuber James Hoffmann organized a taste test of four Cometeer frozen coffee pucks, and this special Chiroso lot from Agualinda came out on top!
---
Share this Product
---