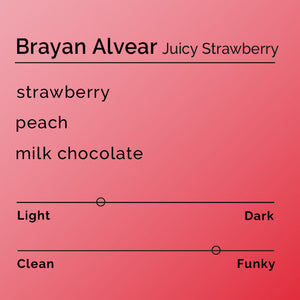 Black White Roasters
Black White Roasters - Brayan Alvear, Juicy Strawberry
Regular price
$39.00
$0.00
Unit price
per
Origin | Acevedo, San Adolfo, Huila, Colombia
Producer | Brayan Alvear
Process | Juicy Strawberry
Variety | Castillo, Caturra, Pink Bourbon
Elevation | 1400-1600 masl
NOTES  | Strawberry, Peach, Milk Chocolate.
MEET THE PRODUCER | At 19 years old, Brayan Alvear might just be the youngest producer to headline one of our releases! Brayan was born and raised in the rural town of Acevedo, where his dad began teaching him about coffee when he turned 13. Just this year, Brayan coordinated a project involving 60 coffee growers in the San Adolfo region of Colombia, collecting and selling coffees in cherry from some of the most remote locations in the region. And, he managed to do all of that while also navigating fatherhood for the first time. Both his personal and professional stories affected one of our own, Anthony Ragler, so much so that he used this very special co-fermented coffee as his milk course at the US Barista Championship earlier this year.
TRUST THE PROCESS | Affectionally named Juicy Strawberry, this coffee is truly a collaborative effort. The beans were grown on Brayan's farm in Huila, and after being picked at peak ripeness, they were transported to Shady and Elias Bayter's storied farm in Tolima for processing. There, the lot underwent three rounds of fermentation: first, a pre-fermentation in plastic bags for 24 hours, followed by an additional 24 hours of aerobic fermentation in cherry. Finally, the cherries were de-pulped and left to ferment in anaerobic environment for five days, alongside dehydrated, ground strawberries. Drying took place over the course of ten days using mechanical dryers.
TAKE A SIP | This coffee is absolutely delightful. With notes of (you guessed it!) strawberries, peaches, and milk chocolate, this coffee had us all reminiscing about strawberry- and peach-flavored Creme Savers. When used in his milk course at USBC, Anthony said it tasted a lot like a strawberry milkshake. We highly encourage making a latte with this one to see if you agree!
---
Share this Product
---