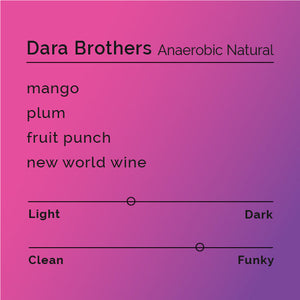 Black White Roasters
Black White Roasters - Dara Brothers Anaerobic Natural
Regular price
$39.00
$0.00
Unit price
per
ROAST |  MEDIUM 
Origin | Yirgacheffe, Ethiopia
Producer | The Dara brothers
Process | Anaerobic Natural
Variety | Heirloom Ethiopia landraces
Elevation | 1950 masl
NOTES  | Mango, Plum, Fruit Punch, New World Wine.
MEET THE PRODUCERS | For us, this delightful coffee is a celebration of "firsts." Our head roaster, Matt, worked with our good buddy Rachel Apple and CropConex to contract this lot, and it is the very first lot that Matt has brought in for us himself! Additionally, this coffee was air-shipped to us from Ethiopia, which is a rare but welcome opportunity as it allows us to provide you with some of the FIRST, freshest Ethiopian coffee available in the USA. Finally, this lot is also a first for the Dara brothers, who have been producing coffee for over 20 years but have never exported the fruits of their labor - until now. CropConex is working with the Dara brothers and other producers like them to help bridge the gap between producers and roasters, granting us a direct line of communication and equipping those producers with much more agency and control over their coffee's pricing and other export details. Doing so also empowers local producers like the Dara brothers to become bonafide exporters, helping them grow their own empires and ultimately create a better life for themselves and their families.
TRUST THE PROCESS | This coffee was processed as an Anaerobic Natural. Upon arriving at the washing station, the ripe coffee cherries were packed tightly into GrainPro bags and sealed. The microbes present quickly absorb all of the oxygen in those bags, and the coffee is left to ferment without oxygen for 18-24 hours. Then, the coffee is scattered onto raised drying beds and allowed to sun-dry for 2-3 weeks, or until optimal moisture content is achieved.
TAKE A SIP | This is a complex coffee that truly runs the gamut of flavors, starting with a cup that's light and tropical before ultimately transitioning into a big, round coffee with lots of jammy, wine-y flavors. At the top, it's all fresh fruit and tropical vibes, like mango and plum. In the middle of the tasting experience, the cup has a ton of red fruit flavor that reminds us of fruit punch. And finally, it finishes like something akin to new world wine, reminding us of a California Cab Sav. The whole experience is adventurous and intense, just like you might expect an excellent Anaerobic Natural to be.
---
Share this Product
---