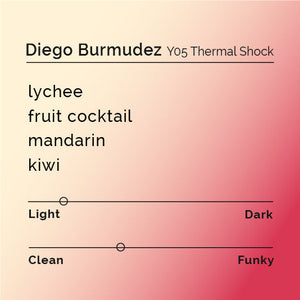 Black White Roasters
Black White Roasters - Diego Bermudez Y05 Thermal Shock
Regular price
$37.00
$0.00
Unit price
per
Origin | Piendamó, Cauca, Colombia
Producer | Diego Bermudez
Farm | Finca El Paraiso
Process | Thermal Shock
Variety | Castillo
Elevation | 1960 masl
NOTES  | Lychee, Fruit Cocktail, Mandarin, Kiwi.
MEET THE PRODUCER | Diego Bermudez needs no introduction in many specialty coffee circles. Known for understanding processing in a way that few producers do, there was a time when Diego was accused of "cheating" because some of the flavors found in his coffees were so intense and nuanced, people thought they must be artificial or added. In reality, those flavors are a direct result, not only of the coffee variety being used, but of Diego's innovative and science-laden processing methods. His use of primary and secondary fermentation has produced some of the wildest flavor experiences we've ever enjoyed at the cupping table, and today's release has a lot to teach us about what is possible in contemporary coffee processing.
TRUST THE PROCESS | As already mentioned, Diego Bermudez is a bit of a processing chemist, and this coffee is certainly a testament to the success of his science experiments. The processing method used on this Castillo lot, thermal shock was pioneered by Diego himself (along with a few others). First, the coffee is cleaned with ozone and then pulped. All of that biomass from the pulping is then moved to another location and fermented with a specific yeast to draw out specific aromatic compounds (like lychee and tropical fruit, in our case). The fermented biomass is then added back to the coffee seeds so that they can all ferment together in a pressurized tank. During this bout of fermentation, the temperature in the tank is slowly increased before being dropped again rather abruptly - hence the moniker. Doing all of this allows the cellular compounds within the coffee seeds to slowly open, letting in all of the flavors and aromatics offered by the fermented biomass, before closing them quickly and locking all of that goodness inside.
TAKE A SIP | [insert your favorite tropical fruit here] You really can't make a wrong guess. This coffee is so unapologetically tropical, we seriously considered putting a picture of Carmen Miranda in her signature tutti-frutti hat on the bag. It's floral and aromatic, like lychee, with a sweet citrus note that reminds us of mandarins. You can also taste other fruits, like pineapples, peaches, cherries, and kiwi. The whole experience reminds us of slurping the juice from a fruit cocktail cup - fruity, sweet, and delicious.
---
Share this Product
---