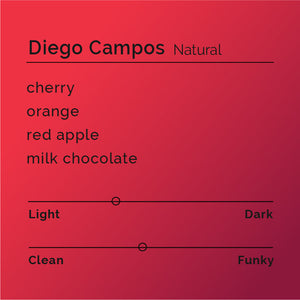 Black White Roasters
Black White Roasters - Diego Campos Natural
Regular price
$37.00
$0.00
Unit price
per
Origin | La Plata, Huila, Colombia

Producer | Diego Campos

Farm | El Diamente

Process | Natural

Variety | Castillo

Elevation | 1950 masl
NOTES  | Cherry, Orange, Red Apple, Milk Chocolate.
MEET THE PRODUCER
| If you've been around here for any length of time, you know we love to celebrate the spirit of competition. Our company was built on that very foundation, and we continue to invest a great deal of our time, energy, and resources into both national and international barista competitors. Enter: Diego Campos. Diego gives us A LOT to celebrate! He was the 2021 World Barista Champion, and he is also a renowned coffee producer at his family's farm in La Plata. "Barista champion" and "coffee farmer" don't often end up on the same e-mail signature; in fact, Diego is the first Colombian to win the World Barista Championship - and only the second to make semi-finals - in its twenty-one-year history.
We don't want to brag or anything, but we knew Diego before he added "world barista champion" to his LinkedIn profile. He and one of our owners, Kyle, first met when they both competed in WBC in Seoul in 2017, and Kyle even had the opportunity to visit Diego's father-in-law's farm, Finca Tamina, back in 2019. We've had the privilege of purchasing coffee from Diego and his family for several years now, and we're thrilled to welcome this latest Castillo lot to our late summer menu.
TRUST THE PROCESS
| After being picked at peak ripeness and hand-sorted, the coffee cherries are submerged in water to remove lower-density beans. Then, they are placed in closed containers for 48 hours of fermentation before being spread out for about 20 days of patio drying, or until 11% moisture content is achieved.
TAKE A SIP
| As far as Colombian naturals go, this one is pretty darn approachable! In lieu of loud fruit flavors and boozy undertones, this coffee is more delicate and clean in its profile. Don't get us wrong - it IS fruity (think cherries, oranges, and red apples), but those flavors aren't overwhelmingly punch-y in nature. It is, however, really sweet, with a lingering note that reminds us of milk chocolate.
---
Share this Product
---