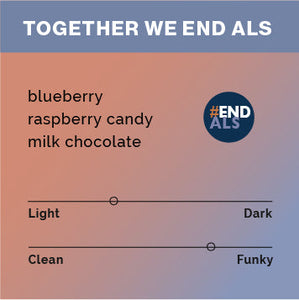 Black White Roasters
Black White Roasters - EndALS Giving Back to Our Community
Regular price
$37.00
$0.00
Unit price
per
Components | Riripa Natural | Gamatui Natural | Milan Natural

Origin | Riripa, Ethiopia | Kapchorwa, Uganda | Riseralda, Colombia

Producer, Farm, or Washing Station | Haji Betro Wet Mill | Sipi Falls Washing Station | Finca La Riviera & Finca Milan

Process | Various naturals

Variety | Local landraces | SL varieties | Catiopia

Elevation | 1450 - 2000 masl
NOTES  | Blueberry, Raspberry Candy, Milk Chocolate.

One of our three core values as Black & White is community. Community extends from our producing partners all over the world to our own cafés and wholesale cafés here at home. Our local coffee community in the Research Triangle area of North Carolina would simply not be the same without a woman named Jeanne Luther and her and her husband's café, Sola Coffee.

MEET JEANNE | Five years ago, Jeanne Luther was diagnosed with ALS. On April 12, 2022, at age 57, our friend Jeanne passed away. Jeanne was a core part of the Raleigh community through the local café, Sola Coffee, and a great friend to several of our own Black & White employees who got their start in coffee at Sola. The Luthers are a special part of our immediate community here at Black & White, and that is why this month through the end of October, we are coming alongside them in their fight to help raise money to #endALS.

Amyotrophic lateral sclerosis (ALS), or Lou Gehrig's disease, is a progressive neurodegenerative disease that destroys the cells in the brain and spinal cord that are needed to keep muscles moving, eventually leading to muscle weakness, loss of speech, and paralysis. The average life expectancy is 2 to 5 years. Currently, there is no effective cure or treatment to stop disease progression of ALS. But, we believe that ALS is not an incurable disease - it is a severely underfunded one.

This is why we lovingly nicknamed this blend, "We Believe in Jeanne." We believe in the power of community to raise awareness and help in the fight against underfunded research for ALS. For every bag sold, we are donating $1 to help the fight against ALS. Money will be donated to ALSTDI, Duke Hospital ALS Clinic, and the ALS Association through Team Dream Foundation.

TAKE A SIP | Jeanne was always a huge fan of big, fruity, naturally processed coffees. In fact, natural coffee from Ethiopia was one of the first naturally processed coffees she ever had! This blend combines three natural coffees from three different producing countries, resulting in one fruit-alicious experience! Flavor notes of blueberries, raspberry candy, and milk chocolate connect us back to what Jeanne always loved about coffee - and her community, by extension. Thank you for helping us support ALS research! And, if you feel motivated to donate further, you can do so at SolaHotMini5K.com.

---
Share this Product
---