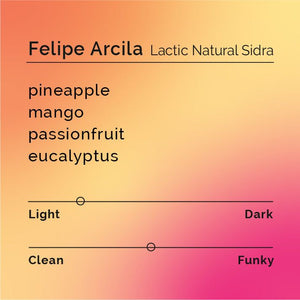 Black White Roasters
Black White Roasters - Felipe Arcila, Lactic Natural Sidra
Regular price
$46.00
$0.00
Unit price
per
Origin | Pijao, Quindio, Colombia
Producer | Felipe Arcila
Farm | Jardines Del Eden
Process | Lactic Natural
Variety |  Sidra
Elevation | 1900 masl
NOTES  | Pineapple, Mango, Passionfruit, Eucalyptus.
MEET THE PRODUCER | There's an invisible string tying this story to so many other coffees coming from our partners at Cofinet: family. In the case of this stunning Sidra lot, it was produced by Felipe Arcila, son of renown Colombian producer Jairo Arcila. Felipe is a fourth generation coffee producer and also the co-founder of Cofinet alongside his brother, Carlos. Cofinet is dedicated to growing, sourcing, and distributing delicious specialty coffee throughout Colombia and exporting it around the world, and we are so grateful for their partnership with us. 
On the advice of their father, Felipe Arcila and his brother initially sought careers in civil engineering, traveling all the way to Australia to pursue masters degrees in the field. Felipe fell in love with the coffee culture he experienced while in Australia and eventually convinced his brother to move back to Colombia with him and carry on the family business. They purchased their farm, Jardines Del Eden, in 2015, and the rest - as they say - is history.
TRUST THE PROCESS | In this unique adaptation of anaerobic processing, the coffee cherries are exposed to dry anaerobic fermentation for 24 hours before being placed in GrainPro bags for an additional 48 hours at elevation (so, at temperatures below 22 degrees Celsius). During this extended time of fermentation in the GrainPro bags, bacteria slowly feeds on the carbohydrates from the still-intact mucilage, leading to a higher concentration of lactic acid development (hence the name of the process). Finally, the cherries are placed in mechanical dryers until 30% moisture content is achieved, and then removed to raised beds at the dry mill until optimal moisture content is achieved. 
TAKE A SIP | When hot, florals and eucalyptus are readily apparent as you bring the cup up to your face. The flavors are pretty tropical here, with notes of pineapple and mango mingling with a sweet citric acidity. The sweetness here reminds us of fresh-baked pies. As the coffee approaches a pleasantly warm temperature, the acidity increases and becomes more vibrant - and lactic - in natural. The flavor experience here reminds us of orange wine, and the sweetness is akin to caramel. When cool, the florals return to take a bow, and the acidity becomes more tartaric. Passionfruit and tart mango are evident here, leaving us with an experience not unlike sipping an Ethiopian Gesha from Gesha Village
---
Share this Product
---