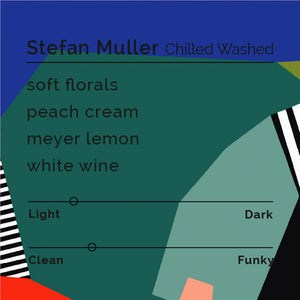 Black White Roasters
Black White Roasters - Stefan Muller Chilled Washed
Regular price
$39.00
$0.00
Unit price
per
Origin | Baja Mono, Boquete, Panama
Producer | Stefan Muller
Farm | Hacienda Baja Mono
Process | Chilled Washed
Variety | Gesha
Elevation | 1500 masl
Tasting Notes: Soft Florals, Peach Cream, Meyer Lemon, White Wine.
MEET THE PRODUCER | Six years ago, Stefan Muller purchased a plot of abandoned farmland from his father-in-law. Looking out over the landscape then, he could already envision the rows and rows of productive coffee trees, thriving under the shade of other native crops, like avocado, chirimoya, and orange trees. Stefan and his wife built that vision from the ground up, planting and nurturing over ten varieties of coffee on the land that is now called Hacienda Bajo Mono. Today, Stefan's vision continues to expand and evolve as he enlists the help of his grown children for things like marketing, and as he works to create his own sustainable fertilizer, using coffee pulp leftover from processing as the principal ingredient.
TRUST THE PROCESS | This lot, grown under the watchful eye of Stefan at Hacienda Baja Mono, has been processed in collaboration with our friends at Creativa Coffee District. Known for their excellence in processing, CCD endeavors to "spark collaboration in the coffee industry and beyond," and we have been the giddy recipients of many of those collaborations since they began working in Panama in 2018. Each lot of ripe cherries arriving at their mill is assigned to one of four carefully constructed fermentation designs, each with varying levels of fermentation impact.
For Stefan's special Gesha lot, CCD chose their ode to the beer industry, a unique style of anaerobic fermentation called Chilled Washed. Here, the coffee cherries are placed in large steel glycol chillers, which are used in the beer industry to ferment, well... beer. These large vats are double-walled, and a liquid called glycol is situated in the middle. The glycol is kept at a rather chilly temperature, thus cooling the environment inside and slowing down fermentation. This keeps the fermentation from getting a little too out of hand, tempering the funkiness of the flavor profile to one that is restrained and clean, rather than polarizing and lip-puckering. After about 72 hours of chilled fermentation, the coffee cherries are laid out to patio-dry for 38 days.
TAKE A SIP | When hot, this coffee is supremely confectionary in nature, with notes like lemon cake and peaches & cream. The whispers of the Gesha variety are present here as soft florals, similar to the small white flowers you find blooming all over bushes in early spring. As the coffee approaches a pleasantly warm temperature, the profile is predominantly fruity, with more peaches and additional notes of tropical mango and cherry, with a juicy texture. The coffee is sweeter here, and also more acidic, with those floral characteristics picking up steam a bit, too. When cool, complex citrus notes take center stage, reminding us of oranges, meyer lemons, and limes. The profile is bright and heavily citric, reminding us of a white wine like the French Picpoul. The lingering sweetness at this temperature reminds us of white sugar, and the finish is long and pleasant - just as every last sip should be.
---
Share this Product
---