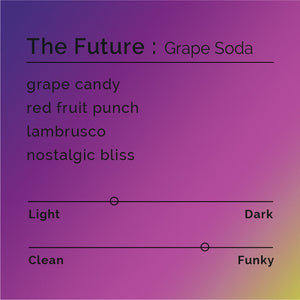 Black White Roasters
Black White Roasters - The Future: Grape Soda
Regular price
$39.00
$0.00
Unit price
per
Origin | Kapchorwa, Mt. Elgon, Uganda | Yirgacheffe, Ethiopia | Tolima, Colombia | La Tocora, San Adolfo, Huila, Colombia

Producers | Gamatui Community | Dara Brothers | Shady & Elias Bayter | Rodrigo Sanchez

Process | Mixed

Variety | Various

NOTES  | Grape Candy, Red Fruit Punch, Lambrusco, Nostalgic Bliss.


The Future has been a beloved staple on our year-round menu for quite awhile now. With it, we have been able to showcase excellence in processing techniques, particularly in regard to anaerobic fermentation. In the past, we have predominantly featured coffees from Colombia in this blend, though lots from Ethiopia, Costa Rica, and Peru have played a part in its conception as well. This year, however, we are shifting our focus away from the individual components of the blend and instead elevating flavor as the guiding principle for each creation.

You'll see several installments of this concept throughout the year, and today's release is the seventh in this flavor-forward series. With it, we celebrate the nostalgia of our lip-stained childhood in all of its grape-flavored goodness. From hard candies to slushies to cough medicine, our whole world was flavored with GRAPE. But, if we had to pick our favorite grape indulgence, it's gotta be the one we begged our parents to buy for us on road trips any time they dared to stop at the gas station - grape soda.

MEET THE PRODUCERS | Today's release is a blend of four coffees from six producers, spanning three countries and two continents. The really unique thing about this blend - in contrast to other iterations of this concept - is that each of the four coffees used make up 25% of the blend, complementing each other perfectly in equal parts. The first is an old friend you've seen on our menu many times: Gamatui Natural, from our good friends at Atlantic Specialty Coffee and Kawacom. With its notoriously grape-forward flavor profile, it was a no-brainer to include this fan favorite in the blend. Next up, we included the Dara Brothers' vibrant anaerobic natural lot, which imparts big fruit punch flavors and a touch of winey-ness to the cup. The latter 50% of the blend is composed of two co-fermented coffees, both from Colombia. Shady and Elias Bayter are the masterminds behind a - wait for it! - GRAPE co-fermented coffee that couldn't not be a part of this concept, and fermentation extraordinaire Rodrigo Sanchez is responsible for a lovely pineapple co-fermented lot that contributes additional fruit flavor and vibrance to the blend.

TRUST THE PROCESS | While the latter two lots have already been identified as fruit co-fermented science projects, the first two coffees are variations in natural processing. The Gamatui lot was processed using traditional Ugandan protocols for natural processing, and the Dara Brothers processed their Ethiopian landrace lot using 18-24 hours of anaerobic fermentation before scattering the cherries onto raised beds for natural drying.

TAKE A SIP | We'll say it one more time for the people in the back: this cup tastes like nostalgia. We're calling it Grape Soda, and it's certainly reminiscent of that. Choose your fighter: Crush, Nehi, or Faygo. But it also reminds us of other grape-flavored goodness from our youth, like grape-flavored Jolly Ranchers and old school Dimetapp. The singular not-so-kid-friendly flavor we can't ignore here is Lambrusco, an Italian wine that's been accused on more than one occasion of tasting a lot like, well... grape soda.

---
Share this Product
---