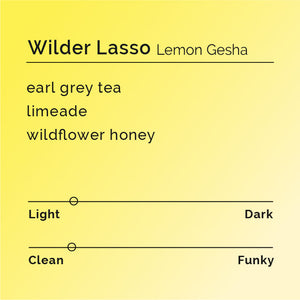 Black White Roasters
Black White Roasters - Wilder Lasso Lemon Gesha
Regular price
$45.00
$0.00
Unit price
per
Origin | Pitalito, Huila, Colombia
Producer | Wilder Lasso
Farm | Bella Alejandría
Process | Semi-washed anaerobic
Variety | Gesha
Elevation | 1890 masl
Tasting Notes: Earl Grey Tea, Limeade, Wildflower Honey.
MEET THE PRODUCER | Wilder Lasso grew up on a coffee farm, but until 2017, he was a veterinarian by trade! Something stirred in him while visiting his father's farm that year, and he - like so many other producers we've featured over the years - left his day job behind to pursue specialty coffee. His background in genetics and insatiable love of learning led Wilder to begin a varietal program in Tocora which has since grown to include more than twelve different coffee varieties from various origins. He is passionate about specialty coffee and relentless in his pursuit of excellence, and those qualities are nowhere more apparent than in this incredible Gesha lot from Wilder's farm, Bella Alejandría.
TRUST THE PROCESS | This lot is an exceptional example of what meticulous and inventive processing methods are capable of producing when they are masterfully executed. The coffee went through two stages of anaerobic fermentation: first, it was submerged in mucilage for 200 hours before being pulped (this helps develop that truly remarkable floral and citric profile we all know and love in our favorite Gesha coffees!). Second, the coffee is re-fermented in the sun with indigenous lemon peel for 18 days. The resulting cup of coffee is worthy of a standing ovation.
TAKE A SIP | At the risk of sounding redundant, this coffee brings to the cupping table everything we look for and love in our Gesha lots! Its particular floral characteristics remind us of Earl Grey tea sweetened with wildflower honey, and the kiss of that co-fermentation with indigenous lemon peel leave us with a citrus note akin to limeade. Both the literal and figurative fruits of Wilder Lasso's meticulous labor are on full display in this cup, and we are honored to have the privilege of hosting it on our menu once again.
---
Share this Product
---