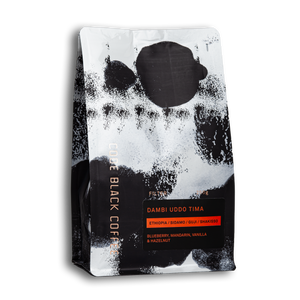 Code Black
Code Black - Ethiopia Dambi Uddo Tima Filter
Regular price
$27.00
$0.00
Unit price
per
Tasting Note:
Blueberry, Mandarin, Vanilla & Hazelnut.

Process:
Natural.

Region:
Ethiopia, Guji, Eastern Shakisso, Hangashi.

Elevation:
2000 - 2150m.
Varietal: 
74110, 74112, Guji Landraces.

Description:

We love exploring lots from Ethiopia as they are just so enjoyable with the level of sophistication that is presented in the cup. As the pre-eminent coffee producing nation, we believe that the most distinctive flavour profiles come out of Ethiopia, shaped by it's 1000 year history.
In 2017, after spending several years in mining and local coffee supplying businesses, Ture Waji, Egata Alata, and Fedhesa Wedesa decided to partner and establish a coffee production, processing, and export business. Dambi Uddo Agro Industry PLC is named after one of the major coffee growing villages in Odo Shakiso county. This particular lot of theirs is named Tima , after a river called Tima Wasi, which runs in the village of Hangadhi.
We were very happy to see that this lot presented with extremely high quality fruit character and was exceptionally clean. This lot from Dambi Uddo washing station has resounding 'Guji' characteristics; stone fruit, citrus, all uplifted with sweetness via the 18-21 day drying process. 
This is a new season lot that we have purchased for the first time this year, and all signs point to it being a fantastic coffee with plenty to give. One of our favourites so far this year.
---
Share this Product
---