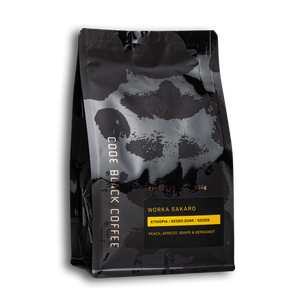 Code Black
Code Black - Ethiopia Worka Sakaro Espresso
Regular price
$27.00
$0.00
Unit price
per
Tasting Note:
Peach, Apricot, Grape & Bergamot.

Process:
Washed.

Region:
Gedeb, Gedeo Zone.

Elevation:
2000m.

Description:

This coffee is from Worka Sakaro washing station in the Gedeb district in the Gedeo Zone. Its unique profile is accentuated by its 'washed' processing to highlight its beautifully clean, vibrant and fruity cup profile. It was grown at or above 2000 meters, soaked in clean water after washing, pulping, and fermenting, and dried on raised beds.
For most of us who reminisce about our most memorable cups, or the very first coffee that changed our perceptions, the majority would mention "Ethiopia".
Ethiopia is well known as the birthplace of coffee; and as such we consistently cup the best lots with the most unique and wonderful flavour profiles from this origin. With an estimated 2000 or more wild and genetically different varieties spread over it's rugged highlands and lush tropical forests it's a given that you would find some of the finest cups on Earth here.
---
Share this Product
---