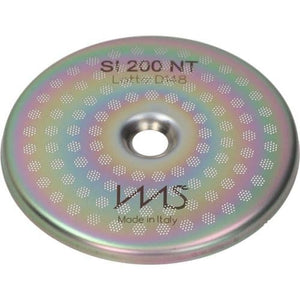 IMS
IMS Nuova Simonelli Nanotech Precision Shower Screen ø 56.5mm - SI200NT
Regular price
$55.00
$0.00
Unit price
per
Simonelli Brew Group IMS brand 200 Micron Shower Screen
The integrated 200 Micron laser etched membrane creates the best dispersion pattern over your coffee while reducing the build up of coffee on the back of the screen. This one piece design provides solid performance. 
FEATURES: External Diameter: 56.4 mm | Internal Diameter: 55.4 mm | Wall Height: 3.2 mm | Central Hole: M6
INTEGRATED MEMBRANE: The membrane is created directly within the body of the shower; it therefore does not require any blocking.
SUPPORT DISC PERFORATION: Perforations: Ø 3 mm, 98 holes | Distribution: Circular
COMPATIBILITY: Nuova Simonelli, Victoria Arduino, Mavam 
Description:
The NT at the end of the product code is NanoQuartz
In order to improve the percolation process, IMS offers a high quality coating using quartz nanotechnology, the NANOQUATRZ coating, for integrated and reinforced membrane shower screens. 
NT Features:
- The advantage of this technology is its hydrorepellent effect - water comes down in a shower of tiny drops that are uniformly distributed over the whole surface of the shower head, saturating the coffee evenly.
- The coating makes it easier to remove used coffee pods, and it also makes it easier to clean thereby rendering the antibacterial nature of the surfaces extremely effective.
- Non-stick coating made of NANOQUARTZ increases the resistance to corrosion and chemical 
---
Share this Product
---