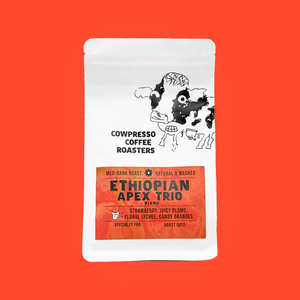 Cowpresso Coffee
Cowpresso Coffee - Ethiopian Apex Trio
Regular price
$25.00
$0.00
Unit price
per
Tasting Notes: Strawberry, Floral, Juicy Plums, Citrus, Lychee, Candy Oranges
Recommended for both Filter and Espressos.
Region: Yirgacheffe, Kochere & Guji
Variety: Heirlooms
Elevation: 1,750m - 2,200m
Processing: Natural, Sun Dried
Roast profile: Medium to Medium Dark Roast (For maximum sweetness)
Acidity: Crisp
Body: Silky

Tasting experience
As a Pour over, Strawberry & Lychee aromas are arresting. Imagine drinking a top-notch Pu-Erh tea balanced across with the acidity of citrius and sweetness of a plum. Don't be surprised if you feel as if you have been drinking coffee in the Bahamas because the floral notes in this Ethiopian Blend is not one to be missed for you floral fruity lovers out there. Being a clean, silky smooth pour is no longer just plain joe.

As an Espresso, floral notes are turn low towards a fruity tea nuance. Lychee is the outstanding flavour here apart from its delicate Citrus flavour reminisce of Candied Oranges.
Farm Information
Exporter and producer Abdullah Bagersh has developed this full natural coffee with a remarkable level of care through every step of the process, making it a true standout unlike any other Ethiopian coffee. This Ethiopian heirloom coffee was grown at an altitude of 1,750 - 2,200 meters in the coffee growing region of Yirgacheffe in Ethiopia.Coffee's of Yirgacheffe have long been prized for their delicate tea-like aromatics and clean flavor. Recently , producers of Gedio region have been reinventing the natural process originally developed in Ethiopia to offer a completely profile from this well-known origin. The MISTY VALLEY is a prime example of the fruitiness , complexity and character of this natural yirgacheffe coffee.

Moisture content of Green Coffee: 10.4%
Packaging
Premium White Matte Block Bottom Pouches with One-way valve & Easy-Tear Resealable Zipper. Heat Sealed for extended freshness.
---
Share this Product
---