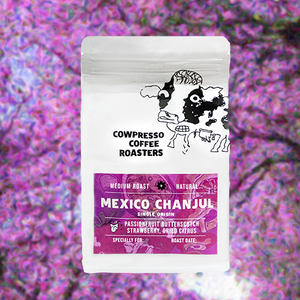 Cowpresso Coffee
Cowpresso Coffee - Mexico Chanjul
Regular price
$26.00
$0.00
Unit price
per
Tasting notes: Passionfruit Butterscotch, strawberry, dried citrus
Recommended for both Filter and Espressos. But mostly for espressos.
Region:  Soconusco
District: Motozintla, Chiapas
Variety: Marsellesa, Hybrids, Starmaya
Elevation: 1200m-1700m AMSL
Processing: Natural on raised beds

Moisture: 10.6%
Roast profile: Medium Roast
Tasting notes:
 Passionfruit Butterscotch, strawberry, dried citrus

Acidity:
 Apple Acidity

Body:
 Medium body 

Tasting Experience

Passionfruit notes with apple acidity, add cream & milk for some fruity white chocolate notes and enjoy with some fresh toasty on the outside but soft on the inside brioche
Natural Processing Method
Dried on raised beds. Read more about different processing types
here

Farm Information

At the southern tip of Mexico in Soconusco, Teddy Esteve's 212-hectare estate, Chanjul was first founded in 1925. Today the Motozintla estate sets the standards for sustainability and Mexican specialty coffee.
After the rust problem of 2012 and 2013, Teddy Esteve specially selected and planted hybrid and Marsellesa varieties which are more resistant to coffee rust. Today, it is a 100% rust-free and resistant farm. When the plantation is 20 years old, the plot will be removed and replanted with new trees.
100% shade-grown, combined with the latitude, annual rainfall of 2500mm and annual temperatures of 26°C - the unique warmth of their soil containing a high percentage of organic materials creates the perfect environment to produce high quality coffee. 
All coffee cherries are hand-harvested and sorted for the ripest cherries to achieve the highest concentration of sugars in the cherry. At the farm's mill 50km away, the cherry is cleaned and floated in freshwater to remove any floaters (aka "vanos").
During the drying process, thermometers control the ambient temperatures and relative humidity around 16-24°C. After 8-10 days, when the moisture reaches below 12%, the coffee is prepared to be sent to the other end of Mexico to Veracruz for export. 
Teddy believes in sustainable production by investing in infrastructure for the benefit of farm workers (free schooling for children, canteen, relaxation).
Packaging
Premium White Matte Block Bottom Pouches with One-way valve & Easy-Tear Resealable Zipper. Heat Sealed for extended freshness of your Freshly roasted coffee beans.
---
Share this Product
---