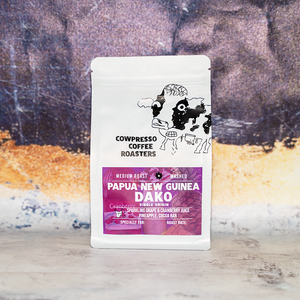 Cowpresso Coffee
Cowpresso Coffee - PNG Dako
Regular price
$24.00
$0.00
Unit price
per
Tasting Notes: Sparkling Grape & Cranberry Juice, Pineapple, Cocoa Bar
Recommended for both Filter and Espressos. 
Region: Banz, Jiwaka Province, Papua New Guinea
District: North Wahgi District

Variety: Arusha, Typica, Mundo Novo, Bourbon
Elevation: 1,500m-1,700 A.S.L
Processing: Fully washed
Roast profile: Medium Roast
Acidity: Champagne Grape
Body: Silky
Tasting Experience
Fully washed, enjoy the clarity of sparking grape with some cranberry as a pourover and cold brew, or add some milk to your french press or espresso drink for hints of juicy sweet berries! Aroma of fruity rhubarb!
Farm Information
Mr Joseph Nuno owns the small coffee farm dotting the main PNG Coffee Hubs in Goroka, Eastern Highlands, and Mt. Hagen, Western Highlands. Growing up in the Nondugi District, coffee is his entire career - he is currently a coffee plantation manager in the Department of Agriculture and Extension. Together with Monpi and 5000 farming households, they combined forces to build the Dako Wet Mill on family land, with coffee from 30 small producers.
Dako is an ancestral family name, found in 6 different clans. Translated, Dako means "people who eat roasted pork (over charcoal)" After hand picking the coffee cherries, they are transported to the wet mill by trucks or by tying rubber tubes together and floating the produce down the Wahgi River.
Cherries are sorted immediately on arrival, and a disc machines pulps the cherries within the first 24 hours of picking. 36 hour of fermentation later, the beans are given a final wash in parchment vats before resting in draining silos and being dried in drying fields with the thin skin remaining. Once optimal moisture content is reached, coffee is trucked to a dry mill in Goroka to be hulled and rested.
Being unable to afford expensive chemicals for farming, they rely on slash weeding and organic fertiliser for growing coffee.
Other challenges the farmers face include bad infrastructure and prolonged dry seasons, affecting flowering, yield and quality of the coffee plants.
---
Share this Product
---