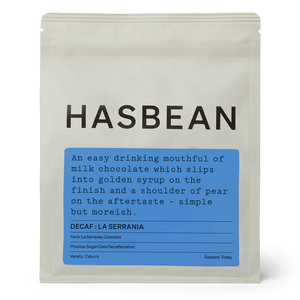 Hasbean
Hasbean - Decaf: Colombia La Serrania
Regular price
$24.00
$0.00
Unit price
per
LA SERRANIA
CUPPING NOTES: Milk chocolate, Golden Syrup, Pear.

We bought this coffee from the cupping table. Sometimes that means we don't know all that much about the coffee itself, but we always do all the digging we can!
La Serranía Decaf is grown along an isolated set of mountains within the central cordillera of the Andes that go through Pitalito, Acevedo, Palestina, Timaná, and Suaza. This coffee represents the work of more than 50 producers who are committed to quality and excellence. La Serrania is carefully hand-sorted and processed at each individual farm, with special attention paid to the drying process to ensure consistency, uniformity, and a clean cup profile.
This coffee is a Natural EA (ethyl acetate a.k.a. sugar cane) Decaf Coffee, processed at the Descafecol plant in Manizales. The decaffeination process at this plant uses ethyl acetate derived 100% from sugar cane mixed with mountain water, together removing 99.7% of the caffeine present. The beauty of the Natural EA process is that it helps preserve so much of the original flavor of the coffee while adding some sweet and fruity notes + a little complexity to the cup too.
We're really happy this lot was decaffeinated in Colombia and while this might not sound remarkable, we think it is! Most coffee is sent off to be decaffeinated in either Canada or Germany which adds a lot of miles to the journey those little green beans are taking, we think it's fantastic to be able to decaffeinate at origin and not only save on carbon footprint but also to give more work to those closest to where the trees grow.
An easy drinking mouthful of milk chocolate which slips into golden syrup on the finish and a shoulder of pear on the aftertaste - simple but moreish.
Country:

 

Colombia
Department: Huila
Coffee: La Serrenia
Elevation: 1,500–1,750 m.a.s.l.
Varietals:

 

Caturra, Castillo and Colombia
Processing method:

 

Fully Washed
Fermentation process: Dry (+/-26 hours)
Drying method: Fully sun-dried on parabolic patios and raised beds
Tree shade: Semi-shaded with plantain and Nogal trees
Decaffeination: Descafecol plant in Manizales, Colombia: uses ethyl acetate derived from a natural source – namely sugar cane
---
Share this Product
---