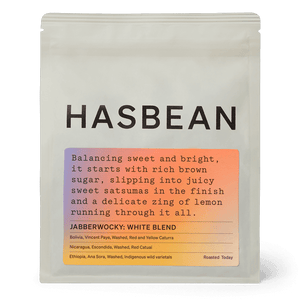 Hasbean
Hasbean - Jabberwocky: White Blend
Regular price
$24.00
$0.00
Unit price
per
Beware the Jabberwock, my son! The jaws that bite, the claws that catch!'
This is Jabberwocky, our white blend. It has a great balance of sweetness and acidity.
As blends go, this one's a little more challenging to tame than our red or black blends – but it's full of amazing results when you get it right.
Our range of coffees here at Hasbean change with the seasons, so throughout the year different coffees come and go. We update our blends as this happens to reflect that seasonality. The coffees in this season's Jabberwocky are...
40% Bolivia Vincent Paye
30% Nicaragua Escondida Washed Red Catuai
30% Ethiopia Ana Sora Washed
Balancing sweet and bright, it starts with rich brown sugar, slipping into juicy sweet satsumas in the finish and a delicate zing of lemon running through it all.
BOLIVIA, NICARAGUA, ETHIOPIA
CUPPING NOTES
Brown sugar, satsuma, lemon
Recommended Brew Recipe
Dose: 18.5g
Yield: 34g
Brew time: 30-32 seconds
(we recommend this as a starting point that we enjoy, tweak to personal taste)
Roasting Information
Medium – through first and into the gap, fairly quick, but drop just as you reach second.
Resting Recommendation
We recommend a 5–7 day rest after the date of roasting before brewing this coffee as espresso, but there's a lot of personal preference in that. So, by all means, please brew whenever you like!
---
Share this Product
---