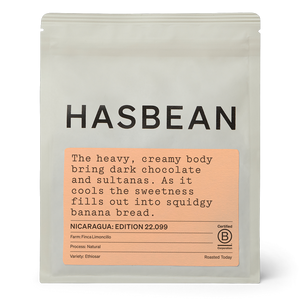 Hasbean
Hasbean - Nicaragua Edition 22.099 Finca Limoncillo Natural Ethiosar
Regular price
$25.00
$0.00
Unit price
per
FINCA LIMONCILLO
We've been roasting Ethiosar variety coffees from Limoncillo for quite a few years now, and it's all thanks to the hard work of the Mierisch family and their cousin Ricardo. He owns a farm near to Limoncillo, but at a much lower altitude of 800 metres above sea level. Ricardo noticed that his yield and his plants were suffering and that they seemed to be becoming more susceptible to disease. He put this down to growing issues in Nicaragua, a change in climate, increased rains and his low altitude. But from experiments he was running on the farm, he noticed that this newly-spliced varietal he had put together was thriving. It was fruiting much more than the other plants and was not suffering.
The varietal, Ethiosar, is a stable hybrid plant. It's a cross of an Ethiopian variety (Sudan Rume) with a Sarchimor (a cross of a Villa Sarchi with a Timor variety). The offspring of this plant is then crossed once again with a Villa Sarchi, which is an improved Caturra / Bourbon from Costa Rica.

What Ethiosar does is increase production by up to 40% whilst only needing 2,800 plants per manzana, whereas with Caturra you would need 4,000 plants. This may not seem important until you begin to think that each plant needs fertiliser. So not only are you getting more yield but it's cheaper to grow because you need less fertiliser and less plants (plants have to be grown or bought), and it's also quicker to pick. On top of all of this, it's super tasty.

The heavy, creamy body bring dark chocolate and sultanas. As it cools the sweetness fills out into squidgy banana bread.
Country:

 

Nicaragua
Municipality: Yasica Norte

Region: Matagalpa
Farm name:

 

Limoncillo
Producers: The Mierisch Family
Farm size: 171 hectares
Coffee growing area: 109 hectares
Elevation: 1,200 m.a.s.l.
Varietal:

 

Ethiosar

 

(Ricardo)
Processing system:

 

Natural
---
Share this Product
---