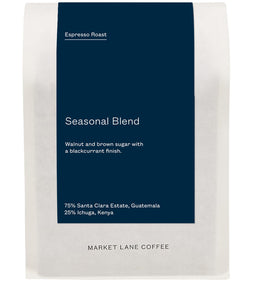 Market Lane Coffee
Market Lane - Seasonal Espresso
Regular price
$23.00
$0.00
Unit price
per
Tasting Notes: Walnut and brown sugar with a blackcurrant finish.
Recommended for Espresso.
75% Santa Clara Estate
Origin: Antigua, Guatemala
Varieties: Bourbon
Process: washed
Producer: Ricardo Zelaya
Relationship length: since 2008
25% Ichuga
Origin: Nyeri County, Kenya
Varieties: SL28, SL34, Ruiru 11 & Batian
Process: washed
Producers: 726 members of the Kiama Coffee Farmers' Cooperative Society (FCS)
Relationship length: since 2022
This delicious espresso blend is made up of two distinctive washed-process coffees. Santa Clara Estate (75%) is produced by Ricardo Zelaya, a fourth-generation farmer whose beautiful coffees we've been offering since 2009. Located in Guatemala's famous Antigua growing region, Santa Clara benefits from the area's mineral-rich volcanic soil. At harvest time, a team of highly trained pickers select the ripest coffee cherries. The cherries are then inspected at the farm's wet mill before being meticulously wash processed.
Ichuga (25%) is produced by the Kiama Farmers' Cooperative Society (FCS) in Nyeri, Kenya. This area is known for its nutrient-rich volcanic soil, high elevations and cool climate, all of which contribute to the outstanding coffees produced there. At harvest time, 726 FCS members deliver their ripe cherries to the Ichuga washing station (or 'factory' as it's called locally). The coffee is then carefully hand-sorted and wash processed by the Ichuga team.
---
Share this Product
---