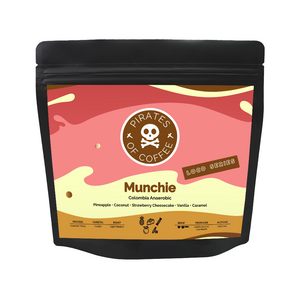 Pirates of Coffee
Pirates of Coffee - Munchie, Colombia La Riviera Anaerobic Honey
Regular price
$38.00
$0.00
Unit price
per
Munchie has a dessert-like aroma that reminds us of strawberry cheesecake. In the cup, you can expect a good balance of tropical fruit acidity and creamy sweetness wrapped into a velvety smooth mouthfeel.
While Munchie works well with both espresso and filter, it is one of the most unique and memorable milk-based espresso coffees we've ever come across. With milk and alt-milk, it's basically dessert in the form of coffee.
Tasting Notes: Pineapple, Coconut, Strawberry Cheesecake, Vanilla, Caramel
Cup score:  88.25 ☕   
Munchie is the fourth coffee we've released as part of our Loco Series, which celebrates the crazy coffees coming out of Colombia this year.
Just like Smoothie, Munchie is a castillo variety produced by Julio Madrid and Andrés Quiceno at La Riviera in Risaralda, Colombia with the same honey cultured anaerobic process. 
ABOUT LA RIVIERA
La Riviera farm is located in Colombia, in the region of the coffee cultural landscape in the central foothills of the Andes Mountain range with a high influence of the Santa Isabel snow-capped mountains.
They are third-generation coffee growers who are dedicated to producing and perfecting high-quality coffees, They produce differentiated coffees with high-quality standards backed by responsible production techniques, focused on origin traceability innovation and tradition.
ABOUT ANAEROBIC HONEY PROCESS
Munchie and Smoothie are one of the extremely unique coffees we have come across, due to the unique Honey Culturing, Anaerobic processing method utilized by Andrés Quiceno at La Riviera.
The Honey Culturing, Anaerobic process involves using fermentation starters and the unique natural flavours that come from fruits and aromatic plants.
New sensory profiles have been developed by mixed fermentations between the starters and traditional coffee fermentation processes. 
TRANSPARENCY REPORT
☠️ Single Origin from Colombia
☠️ Region: Santa Rosa de Cabal, Risaralda
☠️ Producer: Julio Madrid and Andrés Quiceno
☠️ Farm: La Riviera
☠️ Roast: Light/medium
☠️ Brew: Filter and Espresso
☠️ Varietal: Castillo
☠️ Process: Anaerobic Honey
☠️ Tasting notes:
Pineapple
Coconut
Strawberry Cheesecake
Vanilla
Caramel
☠️ Cup Score: 88.25
☠️ Altitude: 1700 masl
☠️ Harvest: January 2022
☠️ Whole bean
---
Share this Product
---