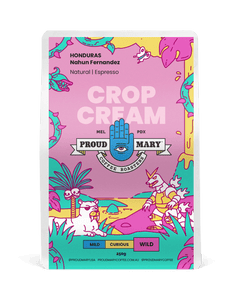 Proud Mary Coffee
Proud Mary Coffee - Crop Cream, Honduras Nahun Fernandez Natural
Regular price
$24.00
$0.00
Unit price
per
Tasting Notes:  Milk chocolate, red grape, & plum.
About: After a conversation with Nolan (the founder of Proud Mary) in 2016, Nahun decided to process his first-ever natural coffee. It was such a huge success that he has been doing it ever since. This year was very challenging for our Honduran producers, with them being hit by hurricanes Eta and Iota right at the beginning of harvest. Luckily for Nahun, most of his cherries were still ripening and holding firm to the trees, so he didn't lose many. Nahun has big plans for the upcoming year; apart from repairing all the damage from the storms, he is planting new shade trees, building the first stage of his new tasting lab, and studying English. This coffee is sweet and syrupy with notes of plum and milk chocolate.
Variety: Pacas & Catuai.
Process: Natural.
Region: Las Flores, Santa Barbara
Elevation: 1500 - 1580 masl
Recipe: Espresso 1:2.5.
---
Share this Product
---