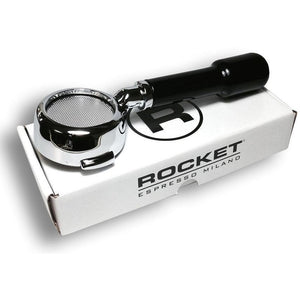 Rocket
Rocket Naked Portafilter 58mm
Regular price
$75.00
$0.00
Unit price
per
What is a bottomless portafilter and what is it used for?
Bottomless portafilters are used as a training tool. It will provide you with immediate feedback and can see if channeling occurs right away.
Channeling is the rapid passage of water through fractures in the coffee puck, which produces a thinner, under-extracted espresso. When it occurs, you'll often see sudden appearances of blond streaks in the stream of espresso; sometimes the puck will even have pencil lead-sized holes where channeling occurred.
Insert basket: 21 grams (58mm)
This Rocket bottomless portafilter is designed to work with all Rocket Espresso Machines such as the Giotto, Cellini, Mozzafiato, Appartamento & R58, but can also work with:
Quick Mill Andreja Premium, Anita, Vetrano, Alexia, Carola
Izzo Alex Duetto IV
Isomac Millenium, Tea, Rituale, Relax, Zaffiro, and Amica.
Expobar Office Control, Office Pulser, Office Lever, and Brewtus
ECM Giotto
Grimac and Grimac Valentina
---
Share this Product
---