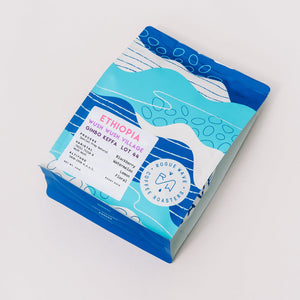 Rogue Wave Coffee Roasters
Rogue Wave Coffee - Ethiopia - Wush Wush Village Special Prep Natural Lot 44
Regular price
$28.00
$0.00
Unit price
per
This special prep Natural processed coffee is wild and fruity with tasting notes of:
Tasting Notes: Blackberry | Watermelon | Lemon | Lilac | Honey | Iced Tea.
Great for both filter and exciting espresso.
Origin: Wush Wush, Ginbo, Keffa, Ethiopia
Washing station: Wush Wush Village
Producer: Dinkalem and Shimelis Ademe
Growers: 2500 smallholder farmers surrounding the area
Harvest: Late 2020
Variety: 75/210, 74/212 and Wush Wush varieties
Elevation: 1850-1950 MASL
Process: Special Prep Natural
More about this coffee: 
Dinkalem's washing station is proud to produce very high quality coffees. His washing station in Wush Wush is 6 years old this season and sits on two hectares, with long drying beds stretching to the far reaches of the property, which is bordered by the glorious forests so characteristic of Kaffa. Dinkalem has a four-disk Agard pulper with two repasser disks, which receives regular maintenance. The nearby Agama River provides water for washing through the serpentine channels at Dinkalem's washing station.
---
Share this Product
---