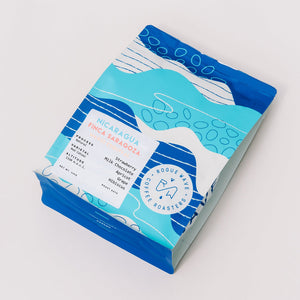 Rogue Wave Coffee Roasters
Rogue Wave Coffee - Nicaragua Finca Saragoza Natural
Regular price
$28.00
$0.00
Unit price
per
This natural processed coffee is sweet and fruity with notes that remind of:

Strawberry | Apricot | Milk Chocolate | Grape | Hibiscus

Origin: Dantali, Jinotega, Nicaragua
Farm: Saragoza
Producer: Mario Esquivels
Harvest: 2021
Variety: Red Catuai
Elevation: 1320 MASL
Process: Natural
Dry: 21-30 days, sun dried on raised beds.
Great for both filter and espresso.
This is our first time purchasing from Mario Esquivel, and we are excited to be the only roaster in Canada with this harvest.
More about Mario and his coffee:
Born in 1920, Don Juan Bautista Esquivel Reyes, who was raised in León, Nicaragua, worked as the administrator of a coffee estate located in Datanlí, Jinotega. After spending a few years as an administrator, Don Juan Bautista bought a parcel of land nearby his workplace. The land was later inherited to his 3 sons and 2 daughters. His son, Don Filadelfo Francisco Esquivel Rivera began planting coffee in 1961 on his 6 manzanas lot, named after the neighborhood in which his grandfather grew up in León, Saragoza. In 1994, Mario César Esquivel bought 2 manzanas from his father Filadelfo and through hard work and dedication, he continues his great grandfather's legacy.
Mario Esquivel is a young coffee producer who has made the commitment to transition from commercial to specialty coffee. He and his father have been producing coffee for 27 years and have assisted in developing their community by building a school and providing well paying, sustainable jobs to the people who live near their farm. This was the first year Mario has experimented with processing his coffees in new ways, other than the traditional washed process. Finca Saragoza is located 1100-1320 meters above sea level within the Natural Reserve of Cerro El Diablo-Dantali in Jinotega, Nicaragua. The farm is packed with incredibly sweet Red Catuai plants.

We are very grateful to be able to bring Mario's coffee to you. This is his first time exporting coffee to Canada.
---
Share this Product
---