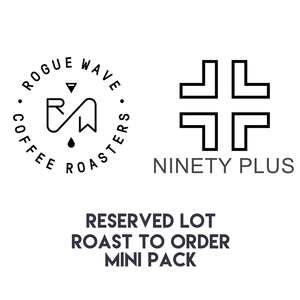 Rogue Wave Coffee Roasters
Rogue Wave Coffee x Ninety Plus - Reserved Lot Mini Pack
Regular price
$32.00
$0.00
Unit price
per
Each pack contains 40-45g of coffee.
Ninety Plus Gesha estate in Panama almost needs no introduction as one of the most famous farms in the worId of coffee competition. They have produced the winning coffee for 5 of the last 6 world brewers cup champions. In order to compensate for the very high cost of green coffee, we think that roasting smaller amounts to order will be of interest to many in the coffee community.
Each pack contains 40-45g of coffee. These coffees are roasted on our Ikawa micro-roaster. We roast 50g of green coffee for each order and hand sort the beans to remove any roast defects. This results in a varying amount of coffee in each bag.
Brewing Tips: Since these are roasted on a small roaster, we recommend brewing this coffee within 4 weeks of the roast date. Perci: use a bit lower temp around 90-92., and 1:15-16. Juliette and Lychello do well with a bit higher temp 94-96 and 1:16-17
Current options:
1. Ninety Plus - Perci - Anaerobic natural - Gesha - Ninety Plus was the first to naturally process the gesha variety in Panama. Perci – short for perspective – is named for the sense of discovery and possibility with natural processing of coffee, which had its beginnings with game-changing events in 2007. After bringing samples of its first experimental natural process coffees (fermented and dried in cherry) from Ethiopia to Panama in 2007 and sharing them with producer families in Boquete, a collaboration was made with Graciano Cruz of HiU Coffee and José David Garrido of Mama Cata to naturally process gesha for the first time for Ninety Plus. Tasting notes: Pineapple, grilled peach, pomegranate, chocolate ganache, port, winey, intense liquour, plum wine, funky spice. This coffee is intense, funky, and will punch you in the face.
2. Ninety Plus - Juliette - Dry fermented/pulped - Gesha Named for its romantic and subtly seductive nature (2-time Chinese Champion and WBC finalist Jeremy Zhang is among her victims), Juliette is among the sweetest coffees produced by Ninety Plus. Like rosé versus white or red, it manifests both the clarity of the classic floral and citrus profile of traditional gesha coffee while being balanced with depth and creaminess in the structure. Tasting notes: vanilla custard, cane sugar, peach, mango, yellow flowers, orange peel, baked stone fruit, light almond, lavender. This is clean, sweet, well structured, elegant, and sassy (spicy).
3.Ninety Plus - Lychello - Dry fermented washed - GeshaInspired by the words "lychee" and "cello", Lycello was the first taste profile created at Ninety Plus Gesha Estates in Panama. Lycello Batch 5 of 2014 was the first of 5 Ninety Plus coffees used to win the World Brewer's Cup Championship. Tasting notes: Yuzu, lemon soda, raspberry, chamomile tea, butterscotch, ginger candy, lychee, orange blossom, melon. This coffee is a clean washed Panama Gesha, delicate and sweet.
4. Ninety Plus - Kule - Dried in cherry / Proprietory process - Mixed Heirloom Ninety Plus considers all part of coffee plant in this processng process, utilizing the husk of the coffee and main ingredient in fermentation. This new formula is new for 2021 harvest. This coffee is electrifying in acidity and very not coffee like with notes that reminded us of Lime Candy, lemonade, rosehip, mint, juicy red grapes, and cantaloupe
 More about Ninety Plus Gesha Estate:
Farm: Ninety Plus Gesha Estate
Location: Silla de Pando, Volcan, Republic of Panama
Terroir: Rich volcanic soil, only 400-500 years old
Elevation: 1500-1700 MASL
---
Share this Product
---