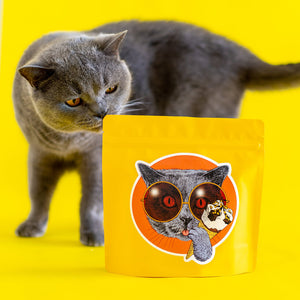 Roundhill Roastery
Roundhill Roastery - Summer Claude Claudenetto Honduras Washed (Filter)
Regular price
$25.00
$0.00
Unit price
per
TASTE Juicy, Stone Fruits, Nutella
ORIGIN Honduras
FARMER Marysabel Caballero
VARIETAL Catuai
PROCESS Washed
ALTITUDE 1600 masl
TASTE NOTES
Juicy, Stone Fruits, Nutella
Every barista's favorite cat, Claude returns with the hottest limited edition coffee release of the summer. Why not remember those scorching hot days this bank holiday with his latest summer drop. So wrap your paws around this coffee find a cool spot in the shade and serve with a Claudenetto
Love Claude x
-
We have worked with Marysabel Caballero and her husband Moises Herrera for several years now and they are always developing and improving not just the coffees they grow, but also the coffee communities they are part of in Honduras. Last year they purchased a new farm named La Tina and this year we had the pleasure of visiting and choosing this coffee.
La Tina belonged to Marysabel's father Fabio who now owns a smaller percentage for him to enjoy and keep farming but in a less commercial sense as he now wants a slower pace in life. Marysabel and Moises have worked closely with Fabio for years and have developed many farms in the Marcala area in south west Honduras. The couple are deeply passionate about sustainable farming practices and the welfare of every member of their staff. They have been extremely successful producing quality coffees and have contributed to the ever improving reputation of Honduran coffee, they really are a joy to work with.
This coffee is a Catuai grown at about 1600 metres above sea level picked between January and March 2022. The processing is washed and drying will have been a combination of patio, raised beds and guardiola.
Price Paid to producer $9.25 per kg
Artwork by the gorgeously talented Martin Kingdom.
---
Share this Product
---