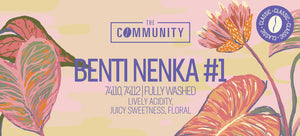 The Community
The Community - Benti Nenka #1 Ethiopia
Regular price
$27.00
$0.00
Unit price
per
Tasting Notes: Lively Acidity, Juicy Sweetness, Floral.
Recommended for Filter and Espresso.
CUPPING NOTES: Clementine, White Peach, Tencha, Orange Blossom, Pink Grapefruit     
VARIETAL: 74110, 74112
ORIGIN: Hambela, Guji, Ethiopia
WASHING STATION: Benti Nenka
PRODUCER: Various Smallholders
HARVEST: 2022
PROCESSING: Wet Fermented for 48 hours, Soaked for 2 hours, Dried over 10 days on Drying Tables
WEIGHT: 200g
For February we go back to a washing station in Hambela Wamena that we've become so fond of! We are excited to showcase a beautiful fully washed coffee from Benti Nenka, a wet mill that is central to around 550 smallholder farmers' livelihood. 
This is our "CLASSIC" category, meaning the coffee that's produced resembles & undergoes the typical sorting, process & drying that the majority of Ethiopian coffees go through. After a first round of hand-sorting, the coffees go through the disc pulper to remove skin & fruit pulp before being transferred to the fermentation tanks. Here the coffees are fermented underwater for up to 48 hours. The fermentation times are largely determined by the weather conditions & at an incredibly high altitude of 1900-2300 MASL, coffees can be fermented longer due to a cooler climate.
After the wet fermentation, the coffees are soaked for a couple of hours after which they are transferred to the drying beds & piled up in layers of 2 cm in height for over a 10-day period. The parchment is constantly turned to ensure even drying for better flavour clarity. 
Coffees from Benti Nenka are easily one of our favourites, always displaying a great balance of intensity & clarity. Our "Single Profile" roast philosophy brings about a Lively Acidity, Juicy Sweetness and Floral Finish.
We hope you will enjoy Benti Nenka #1 as much as we do!
---
Share this Product
---