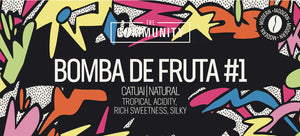 The Community
The Community - Bomba de Fruta #1 Honduras
Regular price
$27.00
$0.00
Unit price
per
Tasting Notes: Tropical Acidity, Rich Sweetness, Silky.
Recommended for Filter and Espresso.
CUPPING NOTES: Sugar Plums, Mangosteen, Dark Cherry, Cacao, Dark Honey
VARIETAL: Catuai
ORIGIN: Marcala, Honduras
FARM: Caballero (Central Wet Mill: Xinacla)
PRODUCER: Moises Herrera and Marysabel Caballero
HARVEST: March 2022
PROCESSING: 20 - 40 days drying on covered raised beds
WEIGHT: 200g
A big part of our identity as a coffee company is to showcase the diversity of coffee flavours across different cultivars, origins & processes. For the last couple of years, this has streamlined to producers that are able to grow & process a larger variety of coffees consistently well which in most origins are extremely difficult to execute! We are extremely grateful for the husband-wife duo Moises Herrera & Marysabel Caballero for always producing gems like these year after year. 
This month's "MODERN" showcase is their new concept Bomba De Fruta - a natural processed lot that exudes everything you love about a process driven coffee! This is a mixed lot of a day's picking from their different farms which is usually combined when the harvest for that day is smaller than usual. These combined lots can sometimes be as impressive as single-farm lots like El Puente or even better! 
Moises has been working extremely hard over the last few years to continually improve their natural processed coffees. For this lot, the cherries are hand sorted and placed on raised beds in a thin pile at the start, before being gently piled up over the days to create more complexity. Due to the humid weather conditions at Xinacla where their central beneficio is situated, the drying process for naturals can take anywhere from 20 to 40 days! 
True to its name, Bomba de Fruta is a fruit bomb! We're tasting Tropical Acidity like Mangosteens, Rich Dark Honey Sweetness, ending with a Silky Mouthfeel & Finish.
This is definitely a coffee that's incredibly memorable as a syrupy pour over, juicy espresso or creamy milk coffee! We hope you will enjoy Bomba de Fruta #1 as much as we do!
---
Share this Product
---