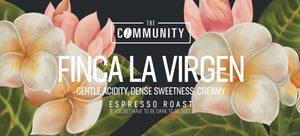 The Community
The Community - Finca La Virgen Nicaragua Espresso Roast
Regular price
$35.00
$0.00
Unit price
per
Tasting Notes: Gentle Acidity, Dense Sweetness, Creamy.
Recommended for Espresso.
CUPPING NOTES: Toffee, Dark Plums, Black Tea, Milk Chocolate, Digestive Biscuits
ORIGIN: Matagalpa, Nicaragua
FARM: Finca La Virgen
PRODUCER: Gabriela & Henry Hueck
HARVEST: March 2022
VARIETAL: H3, Red Catuai
PROCESSING: Fully Washed
WEIGHT: 500g/ 1kg
 Introducing our NEW Espresso Roast for 2023! We are stoked to welcome back Finca La Virgen, a farm we were introduced to a couple of years ago from Matagalpa, Nicaragua. This lot is a mix of Red Catuai & H3 (a hybrid of Caturra & Ethiopia Landrace), produced by Gabriela & Henry Hueck.
A great deal of emphasis is placed on the environmental conditions where the coffees are grown. The farm is surrounded by the natural reserve & coffee trees thrive in that environment amongst the local flora & fauna. They also grow a few other varieties that were carefully selected, like the H1 Centroamericano.
We specifically chose this lot for our "Espresso Roast" for its impeccable balance & mouthfeel. This is a fully washed coffee, yet the acidity is notably smooth & gentle, with a dense toffee like sweetness. Another consideration for us when selecting coffees for our "Espresso Roast" is usually the weight & mouthfeel of the coffee; this Red Catuai & H3 lot exudes a distinct creaminess with a medium weight. This is truly important as it allows us to impart as little "roast influence" on this coffee as necessary, allowing drinkers to enjoy this beautiful coffee as it is. We truly believe that "It Doesn't Have To Be Dark To Be Good".
Finca La Virgen "Espresso Roast" is now available on our webshop in 500g or 1kg bags! We also welcome any queries for corporate requirements, so feel free to get in touch with us via DM, email or through our team at our coffee bars!
---
Share this Product
---