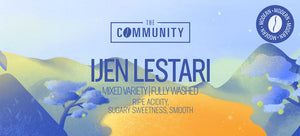 The Community
The Community - Ijen Lestari Fully Washed Indonesia
Regular price
$27.00
$0.00
Unit price
per
Tasting Notes: Ripe Acidity, Sugary Sweetness, Smooth.
Recommended for Filter and Espresso.
CUPPING NOTES: Red Apple, Cantaloupe, Genmaicha, Raw Sugar, Milk Chocolate
VARIETAL: Mixed Variety
ORIGIN: East Java, Indonesia
FARM: Ijen Lestari
PRODUCER: Dandy Dharmawan
HARVEST: June 2022
PROCESSING: Pulped & Wet Fermented for 24hrs, Rinsed & Dried on Raised Beds
WEIGHT: 200g
RECOMMENDED FOR: Filter & Espresso
This month's "MODERN" coffee is our last offering from Ijen Lestari, our first "Direct Trade" partner from East Java, Indonesia. We have thoroughly enjoyed the different iterations produced by Dandy over the last few months & look forward to 2023's harvest! This last showcase is a fully washed lot, a practice that seems to be slightly elusive amongst the top producers in Indonesia.
The coffees are typically hand-sorted before going through the floating channels to remove under-ripe coffees that float. Afterwards, they are pulped to remove the skin & mucilage before being fermented underwater for 24 hrs. Our Single Profile roasting philosophy delivers a Ripe Acidity, Sugary Sweetness and Smooth Finish
Ijen Lestari Fully Washed is simply a delicious everyday coffee that we feel is a great parallel to the quality that we usually come across from Central America. It heartens us to know that such high quality is readily available so close to our doorstep & we are happy to continue supporting the endeavours of Dandy & his team! We hope you will enjoy this coffee as much as we do!
---
Share this Product
---