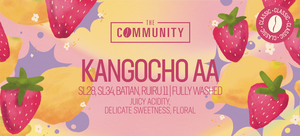 The Community
The Community - Kangocho AA Kenya
Regular price
$28.00
$0.00
Unit price
per
Tasting Notes: Juicy Acidity, Delicate Sweetness, Floral.
Recommended for Filter and Espresso.
JUICY ACIDITY, DELICATE SWEETNESS, FLORAL 
CUPPING NOTES: Pink Lemonade, Ripe Gooseberry, Acacia Honey, Strawberry Tea, White Chrysanthemum
VARIETAL: SL28, SL34, Batian, Ruiru 11
ORIGIN: Nyeri, Kenya
WASHING STATION: Kangocho
PRODUCER: Gikanda Farmers' Cooperative Society
HARVEST: January 2022
PROCESSING: Pulped & Dry Fermented for 12 hours, Washed & Dried over 14 days on Drying Tables
WEIGHT: 200g
We're still in the thick of East African season & excited to present Kangocho AA! This is a coffee from a Washing Station we've not worked with before but we have had so many memorable brews from our favourite roasters so we decided to get this beauty for ourselves! 
This is a "CLASSIC" coffee from the Nyeri region of Kenya where lively, juicy & expressive coffees reign. The washing station belongs to Gikanda Farmers Cooperative Society which processes only washed coffees. It goes through the typical "pulp & dry ferment" but for a relatively short period due to the climate in the area. 
This coffee presents itself as a softer cup, with a delicate sweetness yet juicy acidity! We love the subtle floral notes like Acacia Honey & White Chrysanthemum. We hope you will enjoy this coffee as much as we do!
---
Share this Product
---