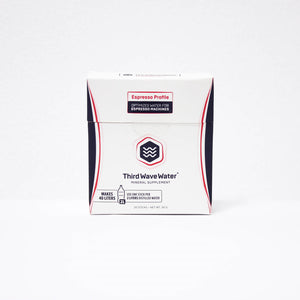 ThirdWaveWater
ThirdWaveWater - Espresso 2L (20 satchets)
Regular price
$35.00
$0.00
Unit price
per
Say goodbye to disappointing coffee with these Third Wave Water – Espresso (20 satchets). Designed to exactly match the SCA water quality standards, the minerals in these packets ensure you have perfect water for making coffee every time.
Most water in the world is too concentrated with various vitamins and minerals. This overly-concentrated water hurts your coffee's flavor a lot—that's why cafes always use reverse osmosis water. But now, for the first time, this problem is completely solved for home users without you having to drop hundreds of dollars on a specialized water filter.
Third Wave Water contains the ideal amount of Magnesium Sulfate, Calcium Citrate, and Sodium, according to the SCA. To make your water, simply dump a capsule of minerals into a 2L jug of distilled water, shake vigorously, and use like normal.
Not only will your coffee be more consistently delicious, but your coffee makers will love it too. This water won't clog up your brewers like most local water supplies will, extending the life of your favorite gear for years.
Third Wave Water – Espresso 2L (20 satchets) Features
Goodbye Disappointing Coffee — Your water's been holding you back… until now.
SCA-Approved Water — Blends the perfect concentration of vitamins and minerals to perfectly match the SCA water standards every single time.
Simple Mixing Process — Just dump a packet of minerals into 2L of distilled water, shake vigorously, and use like normal.
Better For Brewers — This carefully designed water will help your coffee makers last longer by keeping overly-concentrate minerals from damaging the insides.
40 Perfect Litres — The 20 satchets in total give you 40L of perfect brewing water.
This product includes:
1 x Third Wave Water – Espresso 20x2L (20 satchets)
---
Share this Product
---